In Tanzania, East Africa, ECHO is helping lift the spirits of mothers who are in dire circumstances by teaching them about nutrition and gardening through hands-on planting training. Read about how, with support from ECHO, a rehabilitation center for children recovering from corrective orthopedic and plastic surgeries in Tanzania uses their flourishing garden to feed 200 people each day and teach household nutrition.
---
Women at The Plaster House have many reasons to be anxious. Their child comes for a corrective surgery not available in rural Tanzania. Their stay is dictated by the length of recovery time of their child, following surgery for a correctable disability. Treatment cost is a challenge for so many families, and they have to help their little ones regain skills like walking and eating again. Financial, emotional, spiritual and physical worries are a daily battle.
Today though, the women are in the garden. Happy Martin, an ECHO East Africa trainer, leads a hands-on planting training for mothers while their children are being cared for by The Plaster House caregivers. There is joy, excitement, and fellowship.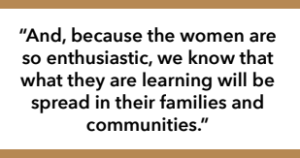 Many of these women had never heard of katuk before but as they have come to trust both the food  and care of The Plaster House, they're willing to give it a try. "Because so many come to The Plaster House from remote areas, ECHO is reaching communities it might never reach otherwise. And, because the women are so enthusiastic, we know that what they are learning will be spread in their families and communities," shared ECHO President/CEO David Erickson.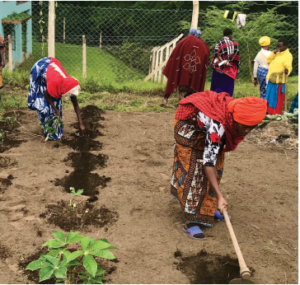 ECHO not only trains the mothers, but helps by training the gardeners working in the garden plot itself. This plot helps The Plaster House continue to feed 200 people every day, with 45% of all the vegetables grown in their own garden. ECHO has been a resource and inspiration for their garden and chicken flock for the last five years and continues to serve both the staff and clients.
"ECHO's seminars in our Mama's Education Program are amongst their favorites, and they respond well to Happy's teaching style," wrote Bronwyn Winchester of The Plaster House. Many have learned to prepare, dry, cook, and grow vegetables that they didn't know were edible such as chaya, cassava, moringa and katuk. Our staff and children also benefit from the vegetables growing in our garden. We are so thankful for ECHO's partnership in Tanzania."
In Their Own Words: Joyce Charles
My name is Joyce Charles; I am a mother of two children from Arusha City. For many years I have been involved in the vegetables and fruits business and I have been selling seasonal vegetables such as Amaranth, African nightshade, and Ethiopian mustard to my customers.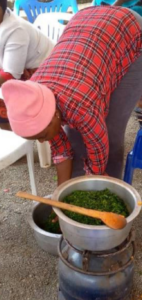 Through our women's group, I attended a training on perennial vegetables such as chaya, moringa, cassava leaves, and katuk from ECHO East Africa. We were taught how to produce and prepare these perennial vegetables which have high nutrition. We were taught that perennial vegetables contain vitamins, minerals, and nutrients required to protect our health.
I am grateful to have received this training as I have been able to expand my understanding of perennial vegetables compared to other annual vegetables. I learned how they can withstand drought, water scarcity, and also that you can plant once and continue harvesting for three to ten years.
Through this training I will be able to produce these vegetables for my family's use and also for sale to increase income from selling of produce since during the dry season it becomes difficult to find seasonal vegetables. Perennial vegetables, though, are available throughout the year.
ECHO provides Hope Against Hunger through agricultural training, innovative options, and networking with community leaders and missionaries in 190+ countries. ECHO seeks to find agricultural solutions for families growing food under difficult conditions. ECHO's international headquarters is located in Fort Myers, FL. To learn more, donate, or volunteer, visit www.echonet.org